Glass Verandas & Glass Roof Verandas by SBI
Aluminium framed verandas are becoming increasingly popular as a way of increasing the amount of useable outside space in domestic properties. There are many reasons for this, but some of the most common reasons why people choose to have a veranda are listed below.
Why have a Glass Veranda or Glass Roof Veranda installed?
Create more useable outside space
Spend more quality time in your garden
Get protection from the UK weather
Create a sheltered place for storage
Increase the value of your property
Add privacy from neighbouring properties
Keep reading, to find out more about each of these key benefits in detail, and to help you decide when you're considering having a glass veranda installed at your home or property.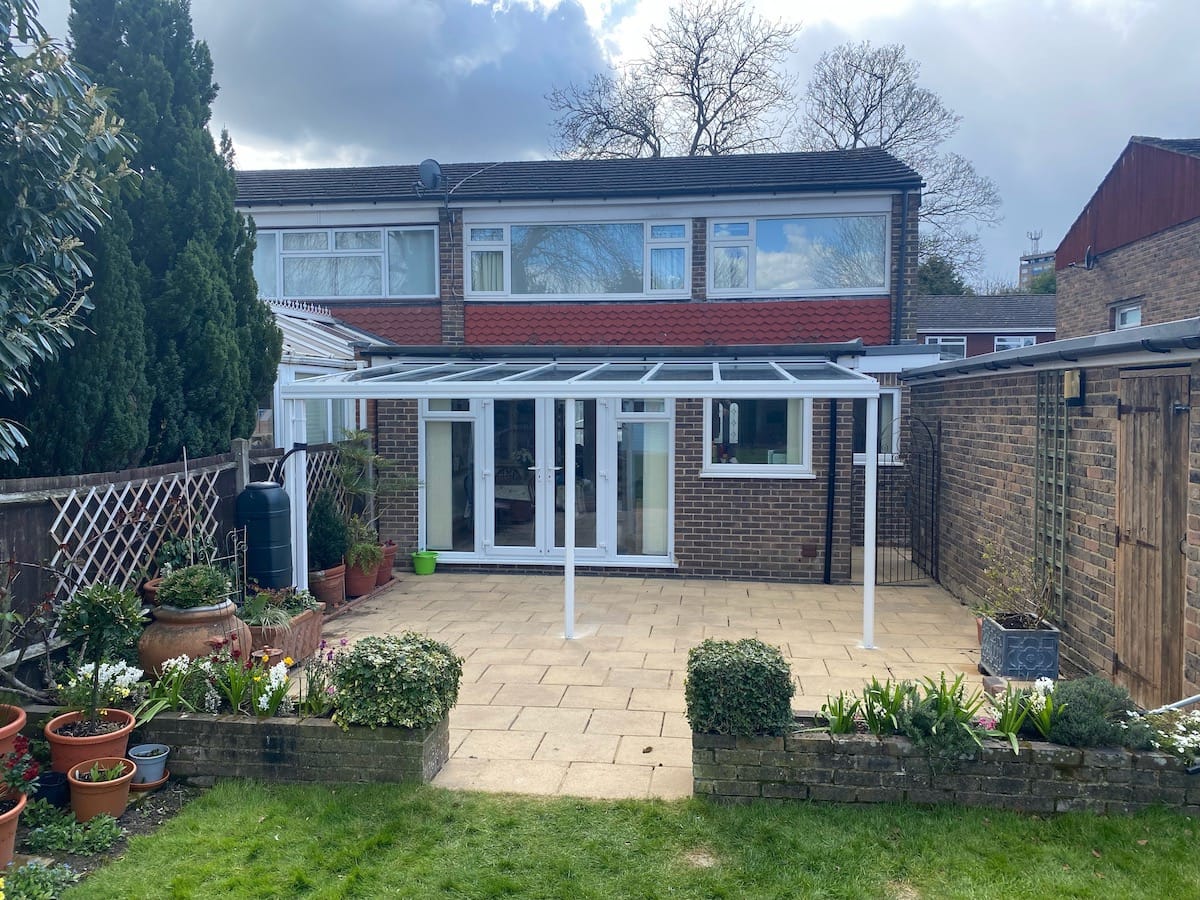 Create more useable outdoor space
One of the reasons why people have glass verandas installed is to create more useable outside space. A lot of people find that their gardens are unusable for a large part of the year because they are either too cold or wet, or too hot occasionally, but with a stylish veranda, you can extend your living space and make use of your garden all year round. This is perfect for hosting patio parties, BBQs on your decking, or just spending time with your family under one of our verandas, as explained below.
Spend more quality time in your garden
In today's busy world, it can be difficult to find time to relax and enjoy the outdoors. However, studies have shown that spending time in nature can have a profound effect on our overall health and well-being. For many people, the garden is the perfect place to unwind and recharge.
Unfortunately, heavy rain or just bad weather can often put a damper on our plans. A garden veranda is a perfect solution for those who want to make the most of their outdoor space, and a great alternative to a conservatory. With a veranda, you can enjoy your garden regardless of the weather. Additionally, a veranda can provide a great space for entertaining guests or simply spending time with family. If you're looking for a way to improve your quality of life, a garden veranda structure with glass roofing over your patio is a great investment for your property.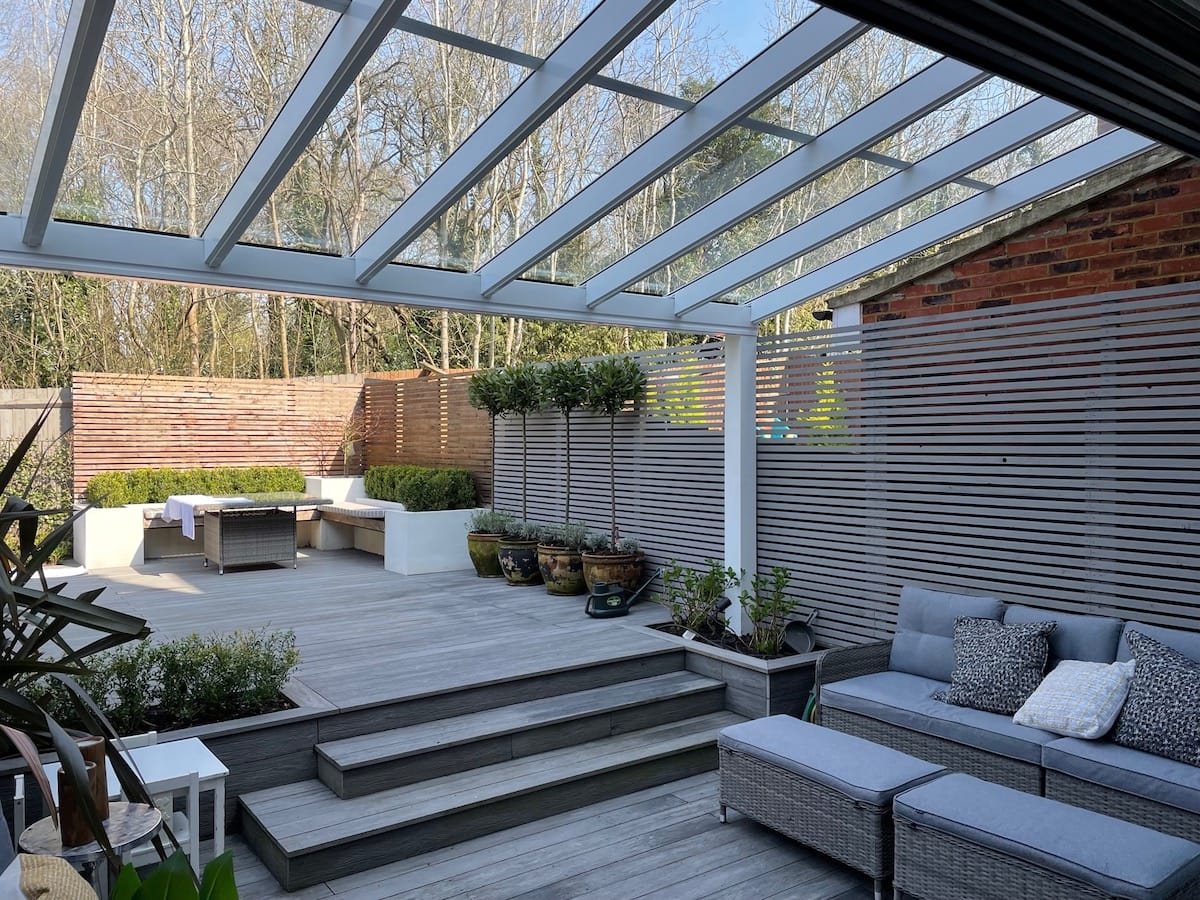 Like to party or entertain?
Outdoor parties and barbeques can be so much fun, but sometimes the weather doesn't cooperate. Having a veranda fitted means that you can party no matter what the weather is like outside. Your guests will stay dry outdoors if it rains, and they'll have somewhere to cool off if it's too hot. Because of this, you'll be able to entertain more often, and your guests will always have a great time, your party or barbeque will not be cut short due to bad weather.
Need to unwind?
It can be so nice to chill out under a stylish veranda, in a comfortable setting, not too hot when it's sunny, and not getting wet when it's raining. You can unwind and enjoy a book or other activity without having to worry about the sun or rain. This type of installation can provide a real oasis. If you have a veranda, make sure to take advantage of it and use it as an elegant place to relax outdoors and recharge instead of having to stay indoors.
So whether you're looking for a way to make sure your outdoor parties are always a success, or you just want a space to relax and unwind, a veranda can be the perfect solution.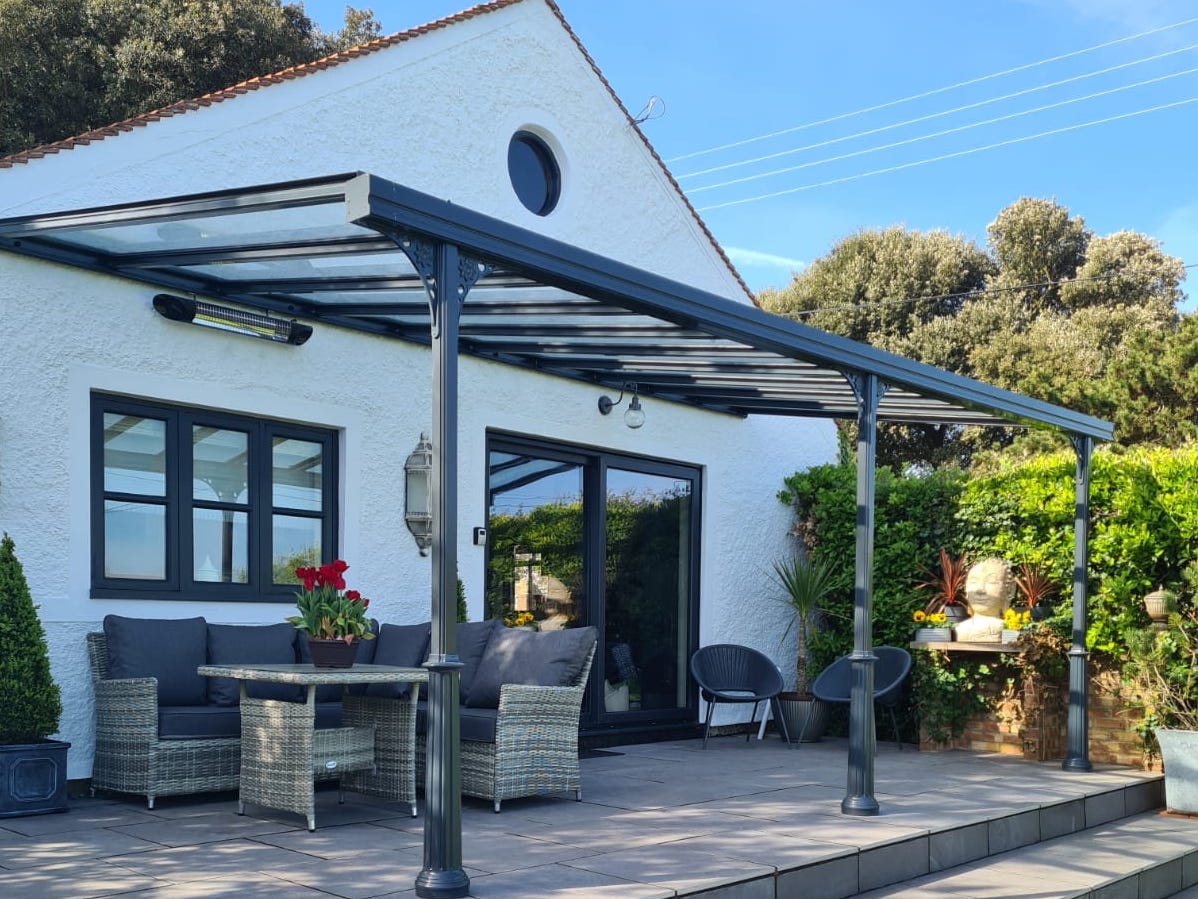 Choose glass roof verandas, for a romantic meal under the stars?
With a glass-roof veranda, you can do just that! Whether you're enjoying a quiet meal for two or hosting a party for your closest friends, our glass roof panels provide the perfect way to see the stars while staying dry and comfortable. And because our roof panels are toughened glass, you won't have to worry about them breaking or shattering if something falls on them. If you'd like to enjoy a romantic meal on a starry night, on your garden patio, then we've got you covered with one of our stylish, elegant, glass verandas.
Get shelter and shade from the weather
Another great reason to have one of our verandas installed at your house is for protection from the UK weather.
UV rays and harsh weather can make it uncomfortable to spend extended periods of time outside. Fortunately, there are a few simple ways to make your garden more comfortable for you and your family, including installing a veranda canopy structure. A canopy install provides shade from the sun and protection from rain and other elements.
The sun's rays can be harmful to your health in a number of ways. overexposure to the sun can cause sunburn, skin cancer, and other serious health problems.
Our glass verandas offer UV protection too
We all know that wearing sunscreen, wearing protective clothing, and avoiding prolonged exposure to direct sunlight can help keep yourself and your family safe from the sun's damaging effects, but sometimes we forget.
One way to make your garden or outside space a safe place is to install a veranda canopy.
A toughened glass roof veranda installation will filter UV rays. We also install polycarbonate roof verandas too, which will provide even more shade and protection from the sun. An extra consideration is noise levels, as glass verandas are much quieter than polycarbonate roof panels when it's raining, so that's something you might want to think about. We can help you decide on frame colour, heating extras, posts shape, glass, or polycarbonate choices from our wide range of elegant verandas.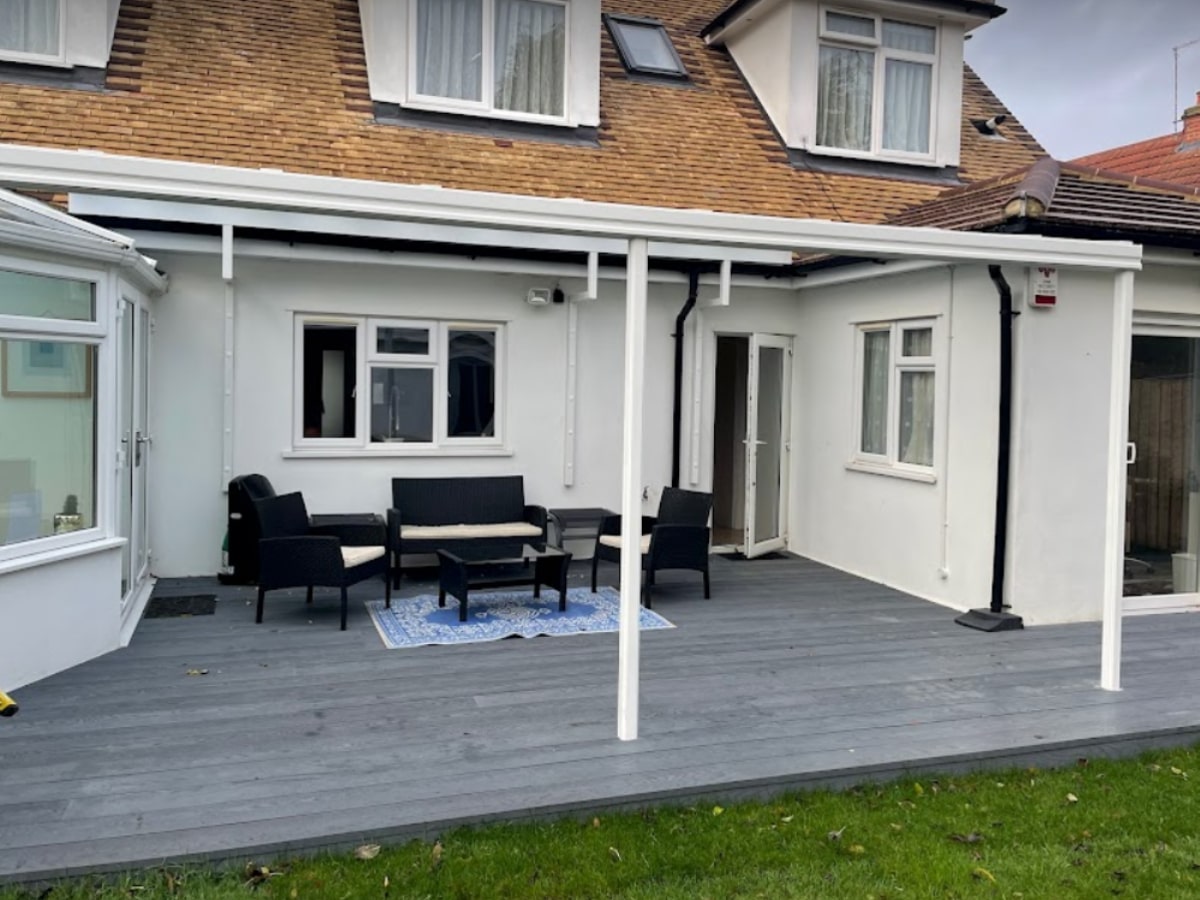 Create a sheltered place for furniture and storage
A glass or polycarbonate roof aluminium veranda is great for creating a sheltered space for your outdoor furniture, keeping it dry and cleaner for longer, and protecting your furniture from bird droppings, tree sap, snow, rain, and UV rays that may cause fading to your valuables.
As hot tub and pool prices have come down in recent years, more people enjoy spending time in their hot tub or pool, during the summer months and throughout the year. An aluminium glass veranda from our stylish range will help to keep your hot tub or pool clean by shielding it from leaves and other debris.
If you need some additional storage for garden tools or your lawnmower, a glass veranda is a great solution. By enclosing your veranda, you can create a dry and sheltered space to store your belongings. This is especially useful if you live in an area with high winds or severe weather conditions.
An aluminium patio veranda can also be used to protect your potted plants from the elements at certain times of the year when placed under your canopy, almost like having them inside your conservatory. This is especially beneficial during the winter months when you may want to keep your plants out of the frost and snow, or in the summer when you may want to protect them from the harsh sun.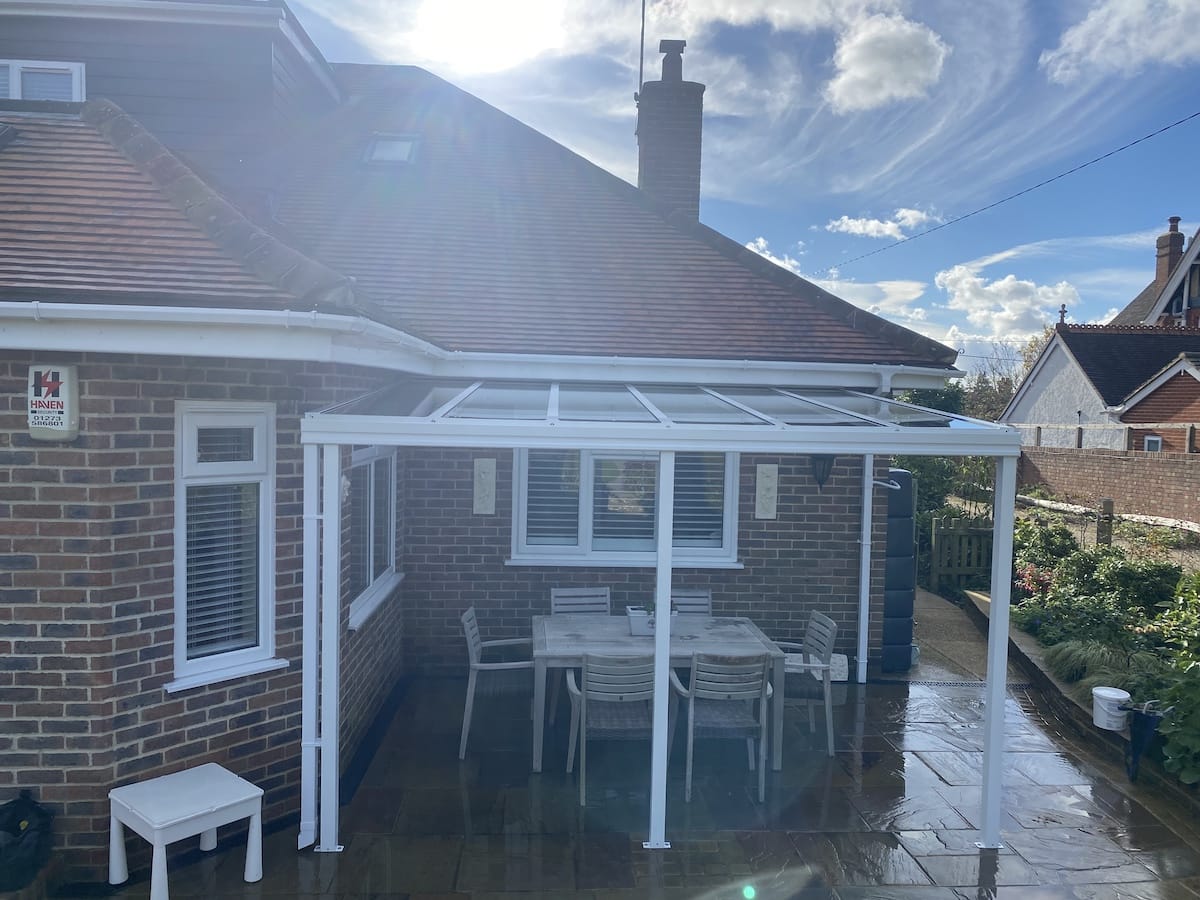 Keep your carpets and flooring cleaner for longer
Another great benefit for our customers that is especially useful during times when it's wet and muddy is when you have to wear your boots outside. Having one of our aluminium glass verandas fixed to your property means that you can simply slip your boots off under the veranda before entering your house. In most cases, this will help to keep carpets and flooring cleaner and you won't have to worry about your boots getting wet either, as they will be protected by the veranda frame.
If you're spending less time keeping your floors clean, you can spend more time outside enjoying your garden patio veranda with complete peace of mind that your veranda installation gives you an end result of staying dry as well as your boots remaining outdoors.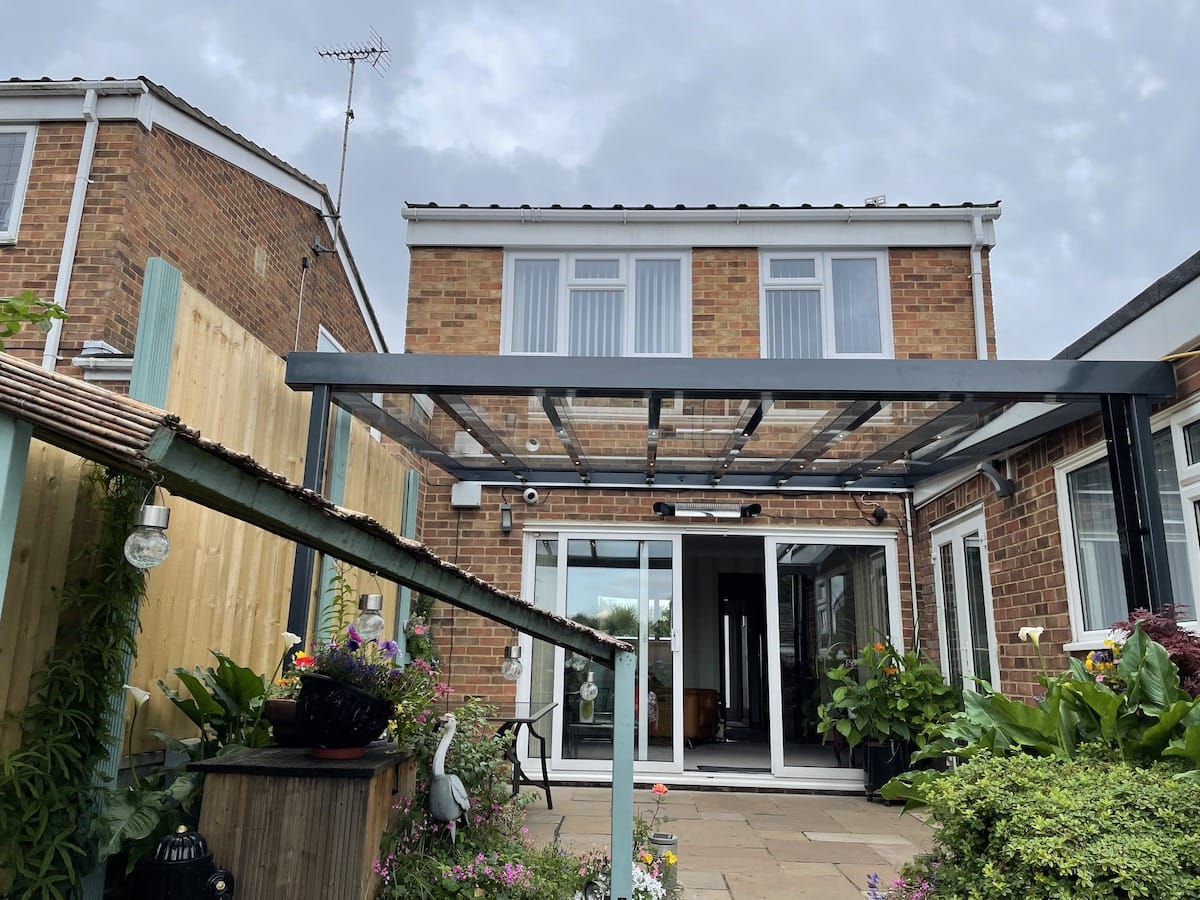 Increase the value of your home
A veranda installation is more than just a covered patio area; it's an extension of your home that can be enjoyed all year round. Whether you're looking to entertain guests or simply enjoy some peace and quiet, a well-designed, elegant, glass veranda can be the perfect spot. When planning your patio veranda, it's important to consider both form and function.
The size and layout of the space should be based on how you plan to use it, and the materials you choose should be durable and easy to maintain. With a little careful planning, your veranda can be an asset that adds significant value to your home, if you decide to sell in the future.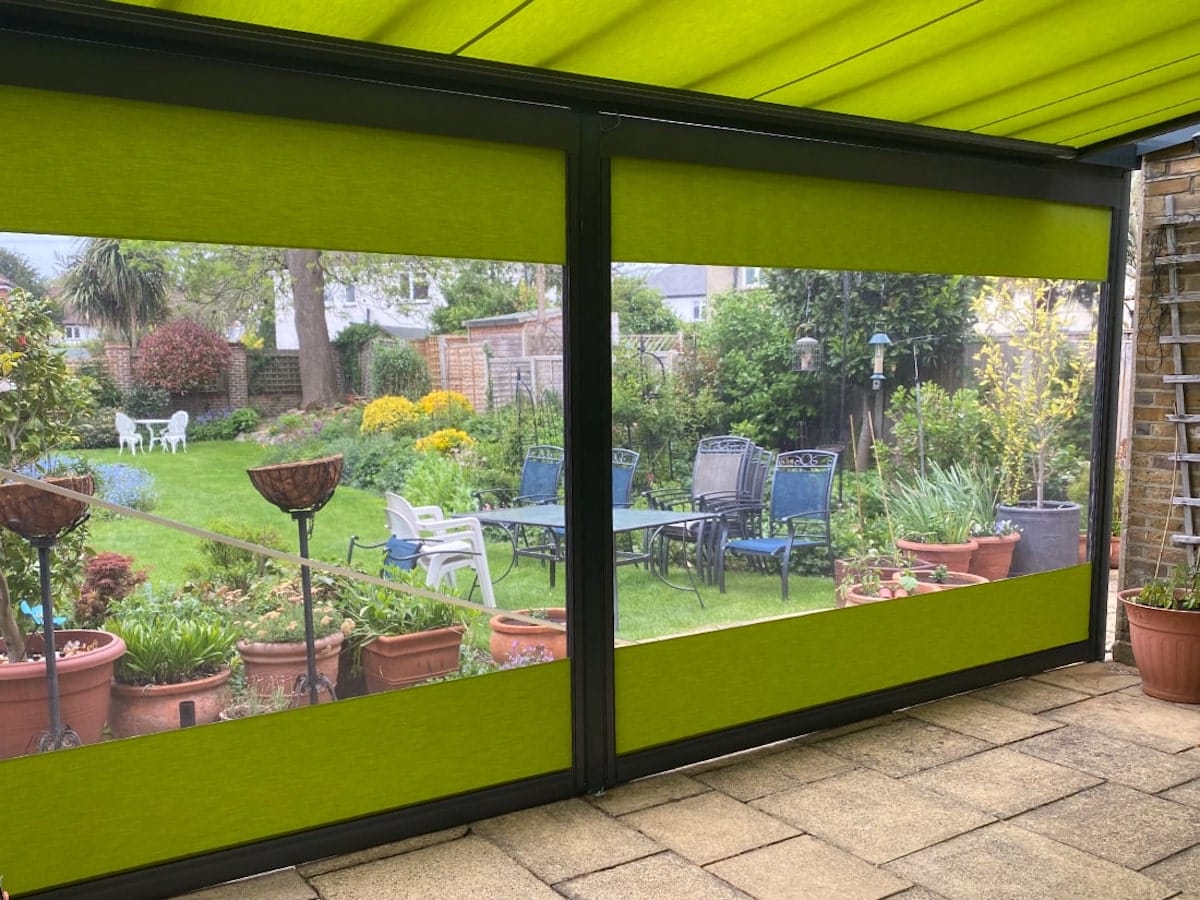 Add privacy from neighbouring properties
It can be so important to have complete privacy in your own home, garden, or outdoor areas. Sometimes, it can feel like we are living in a goldfish bowl with everyone being able to see into our homes and gardens.
Having a garden veranda can give your privacy from overlooking windows, and side-screens can make your veranda even more private, creating an oasis that you can enjoy without feeling like you are on display.
Unwind after a long day, or entertain your guests without feeling like you are being watched. By creating an area where we can escape the prying eyes of your neighbours, you can truly chill out and enjoy your garden all year round.
A glass room veranda can also provide privacy benefits for a hot tub or swimming pool. Your hot tub position is left unchanged with one of our glass verandas. It's also an enhancement of the area with the powder coated colour choices, designs of the posts, columns, heating extras, and frame sizes. Our range shows maximum width options, colours, and much more.