Glass Rooms For Outdoor Garden Room Extensions
At SBI we supply and install a fantastic range of elegant glass rooms that can be used as outdoor garden room extensions for homes, businesses, schools and commercial organisations across the UK.
Extend your outdoor living space
A glass veranda upgrade to a glass room for your garden or outside space can be a great way to extend your living space and make the most of your outdoor area. It can provide a place to entertain guests or simply relax and enjoy the outdoors, all while being protected from the elements.
Glass rooms come in a variety of styles and sizes, so you can find one that perfectly suits your needs. And because they're made with durable materials, you can be sure that your bespoke glass room will provide years of enjoyment.
So if you're looking for a way to add more usable space to your garden, consider one of our glass garden rooms. It's an investment that will pay off for years to come.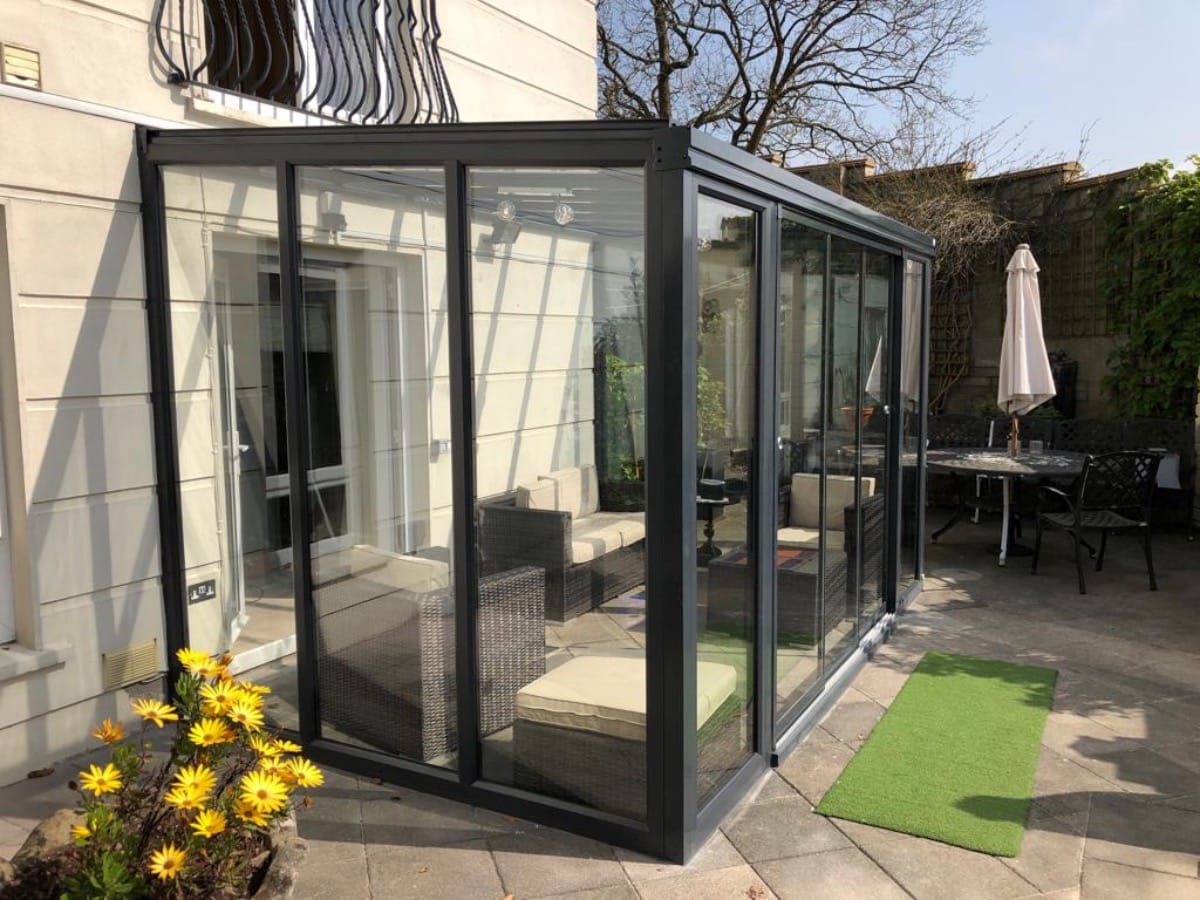 Glass roof, glass sides & doors, aluminium frame
Our glass rooms are built from toughened glass roof panels and aluminium profiles that may also be powder coated to your preferred RAL colour to suit your house.
Side panels or retractable glass sliding doors can provide uninterrupted panoramic views of your outdoor space environment while protecting you from the elements, allowing you to enjoy the 'outdoor living indoors' experience in your own home or business premises.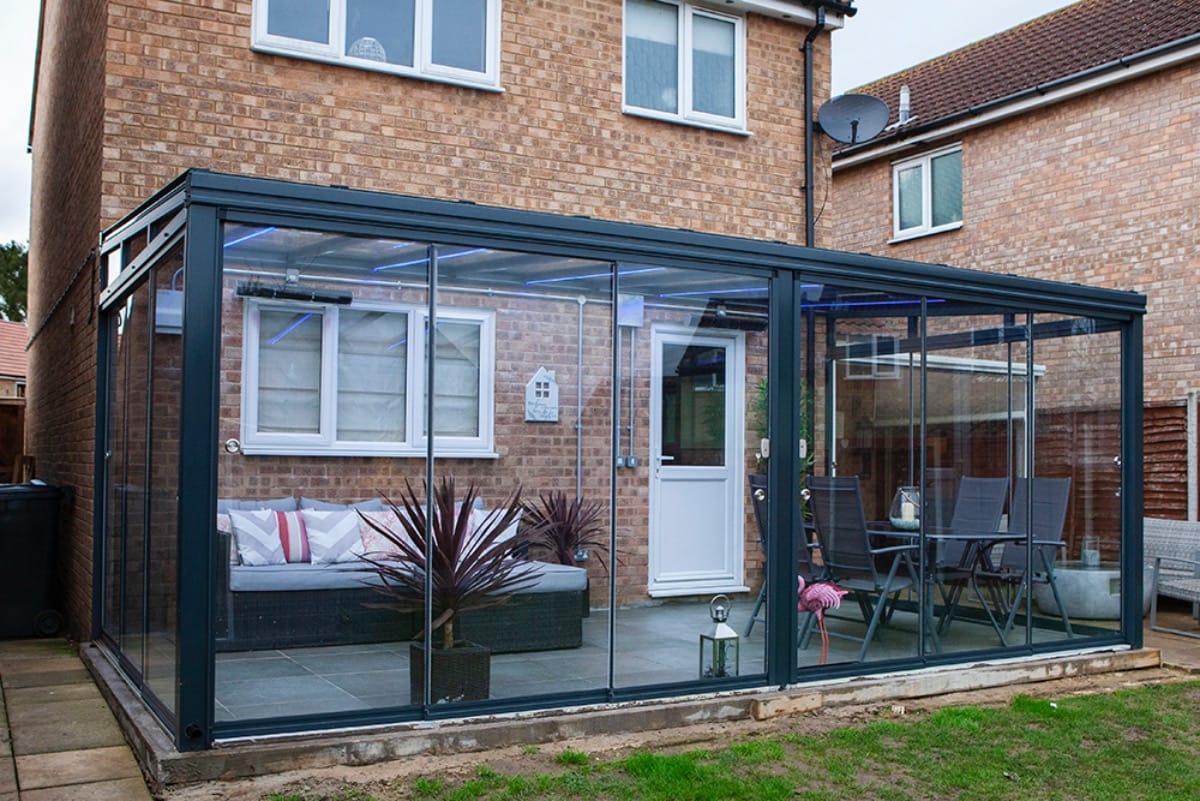 Why Have a Glass garden Room Installed?
Add value to your home
Having a glass room installation is an excellent way to add value to your property, due to adding additional functionality to your property, making it more saleable.
Our minimalist designs and sleek appearance will provide a touch of elegance and flair.
Potential buyers will appreciate the extra living space and the connection to nature that our garden rooms provide.
Screens can be fitted for privacy and flexibility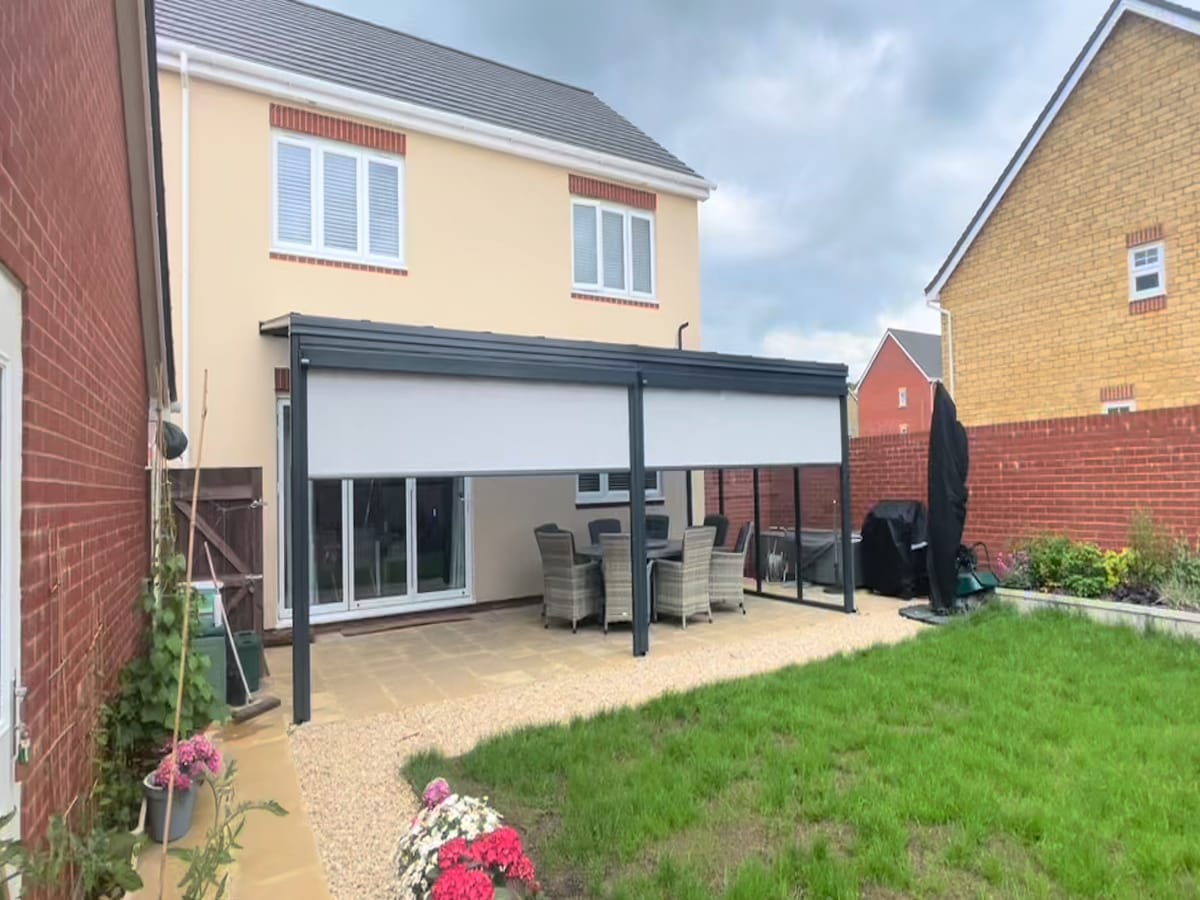 The remote-controlled screens can be positioned at any height, to keep the sun out when it's too hot, to keep the wind and rain out, or to keep your patio space private. As you can see below, our customer chose to have fixed glass panels at one end of the glass veranda, and 2 remote-controlled screens at the front of the veranda.
Here's how this structure looks when the screens are tucked away: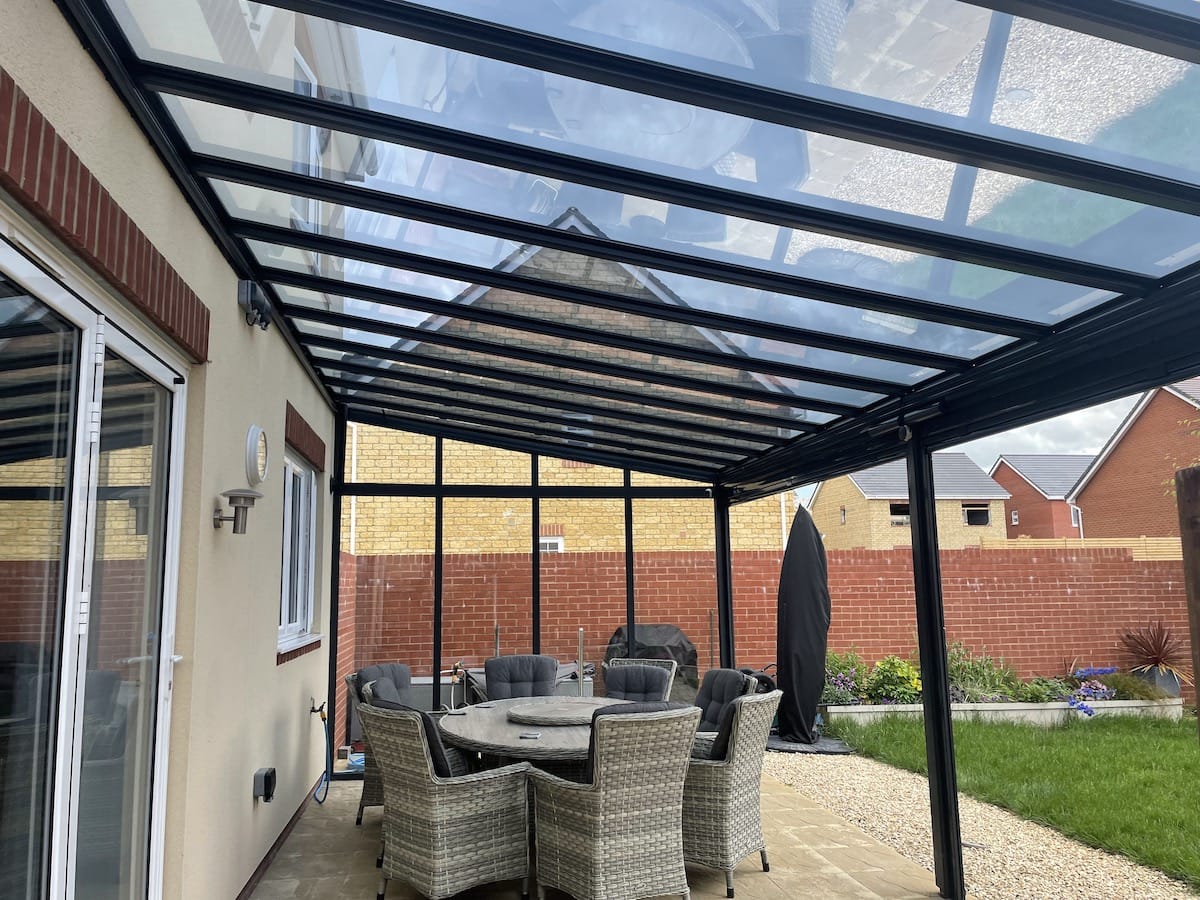 Create an extra outdoor room for whatever…
A glass garden room is an excellent way to add space to your home without extending the footprint of your house.
It can be used as a family room, playroom, office, or even an extra bedroom if needs must. They are extremely versatile to create a new room within your home.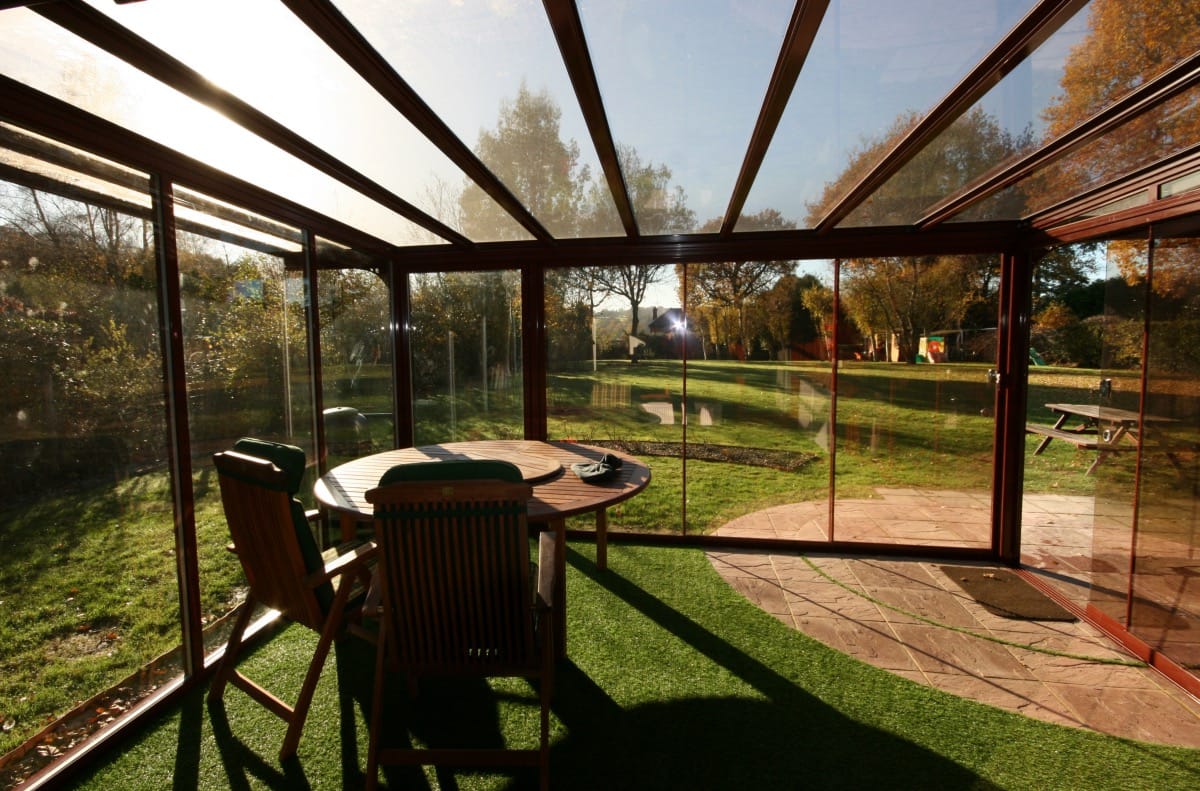 Bring the outdoors in with glass rooms
A garden room can also be a great way to bring the outdoors inside. The glass side walls and toughened safety glass roof will let the natural light in, and when doors are open on one of our glass rooms, you can get as much fresh air and light as your need, all year-round.
Create the wow-factor
Imagine being able to sit in your glass room and watch the snowfall or rainfall on your spring or summer garden, without feeling cold or getting wet.
With one of our glass rooms, you can enjoy the best of both worlds – the comfort of indoor living with the beauty of nature. It's a quality product and more stylish than a traditional conservatory.
In addition to providing a stunning focal point, glass rooms also have many practical benefits.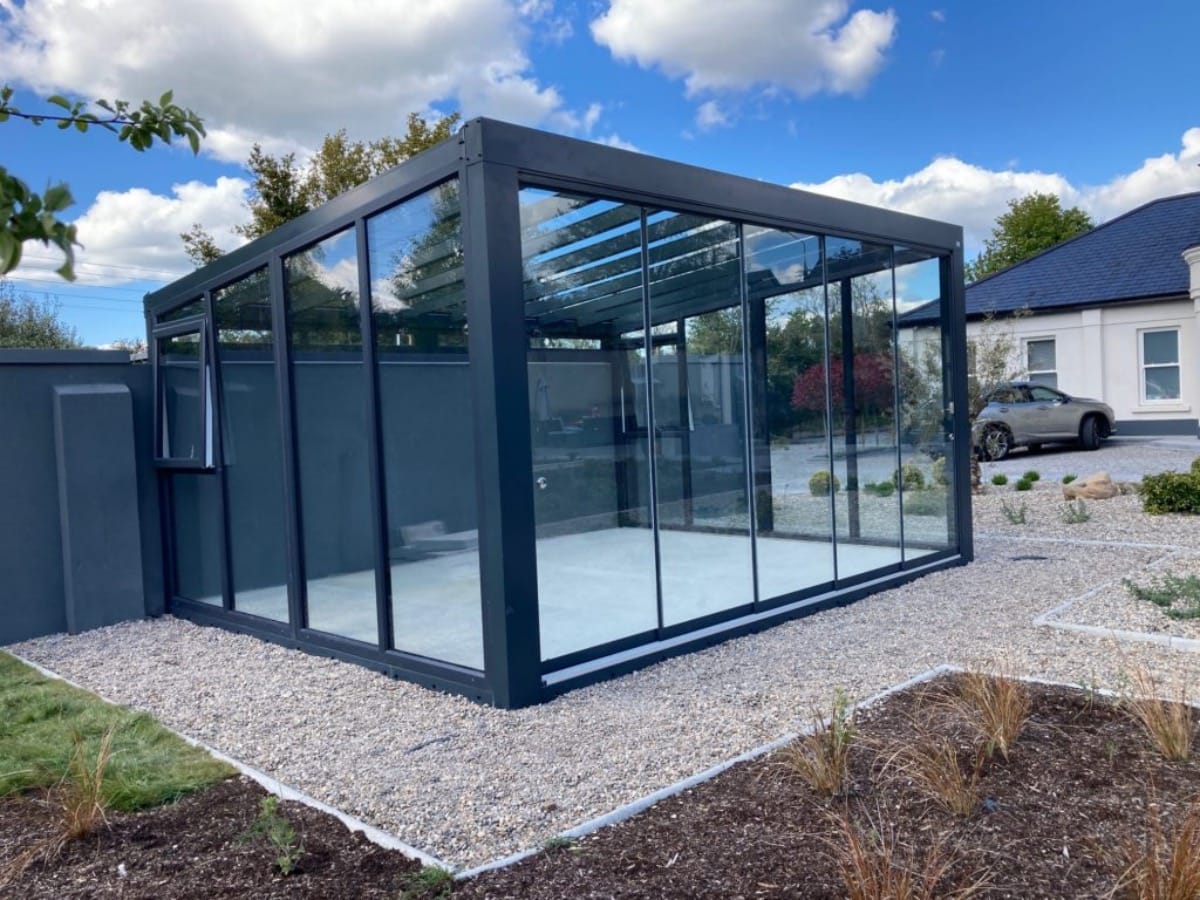 Easy glass sliding doors and lockable doors for added security
Our easy-sliding glass doors are incredibly sleek and modern looking and lockable for added security and peace of mind, to keep your garden furniture or valuables safe.
Additional Features from a high quality construction:
The most harmful UV rays produced by the sun can be blocked by polycarbonate roof panels, which protect against up to 98% of dangerous UV radiation. Optional UV-activated self-cleaning glazing also offers protection from the sun's harmful rays while reducing cleaning.
Because our glass rooms come with a 10-year warranty and a 25-year lifespan, you'll be receiving a trustworthy and long-lasting product for years to come, making a glass room an investment for the future.
The guttering and downpipes are all integrated, which not only makes the system more sleek and clutter-free, but also reduces maintenance required.
Infrared heaters can also be added to our range, which will provide soothing and relaxing heat in your glass room, which are completely safe and do not produce any UV radiation.
You can also opt for remote-controlled LED lighting to provide an ambient glow. For some systems, lights can be placed within the canopy frame for a sleek effect, or lighting can be added at a later date by yourself or electrician when the time is right.
Enjoy A New Garden Glass Room All Year Round
It's great to be able to enjoy your garden in the summer, but sometimes the weather doesn't play ball. The sun shines one day and it rains the next. You can never quite predict what the weather is going to do these days. With an outdoor glass room or garden room, you can make the most of your garden surroundings all year round. You will be able to relax in the sun or shelter from the rain or wind, whatever the UK weather throws at you.
Glass Garden Rooms Are a Great Conservatory Alternative
Glass rooms are an alternative to conservatories and an open glass veranda, and are much easier to use during the summer months. Simply slide back the glazing sides if necessary and eliminate overheating problems that come with a conservatory. The glass room is constructed in a completely modular form allowing for simple use.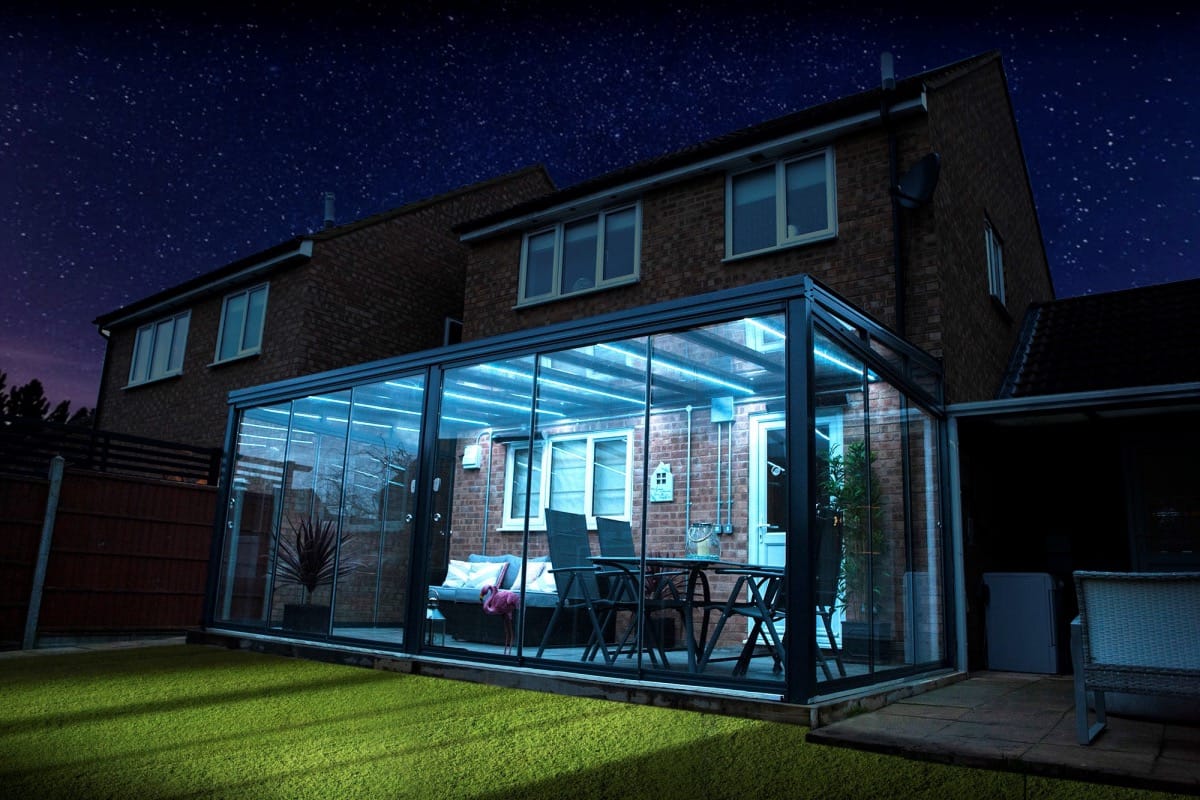 Extras including lighting
LED lighting, heaters or roof shading or exterior shades can be added, these can be controlled remotely and provide extra cooling to ensure you are in a protected and shaded room throughout the year, free from sun, wind, and rain.
Swift Glass Room Installation
The Garden Glass Room is an architectural highlight of the home and is often used to enhance the look of your home. Contrary to your typical conservatory the building work needed to install glass in your garden is minimal which means that the installation process is quicker. Often no foundation repairs are needed as are alterations on homes or buildings that you own. Almost all the time, there will be no planning permits required. This makes for an exceptionally smooth operation.
To protect your garden from unpredictable British weather the Glass Room option offers the best flexibility.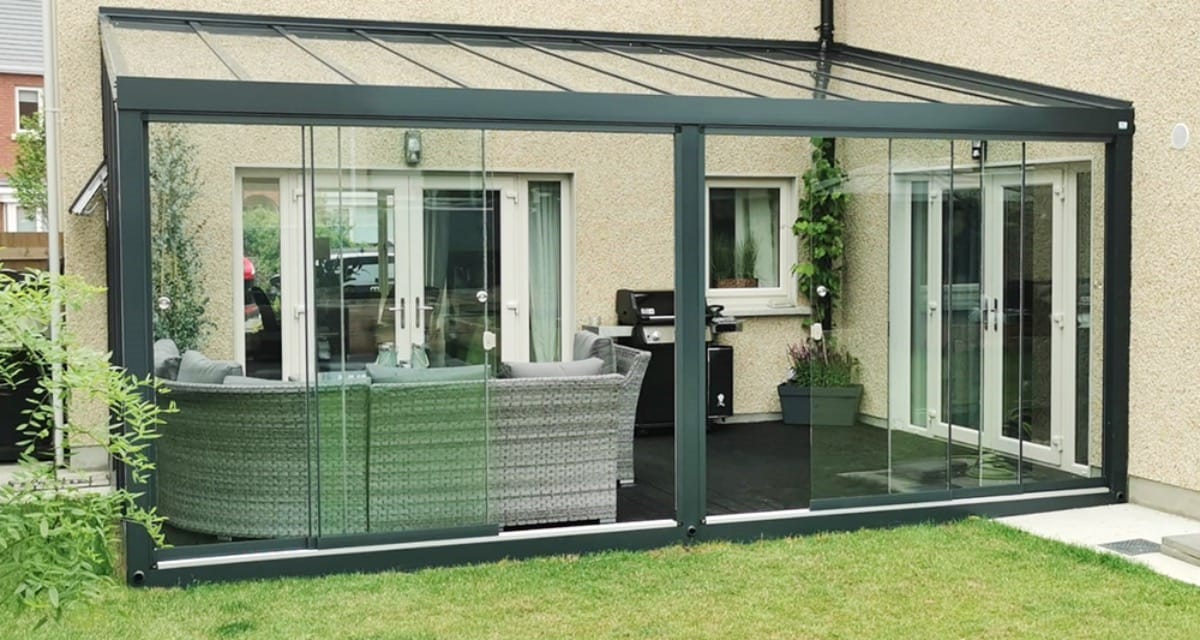 Glass Room Accessories
It has an integrated roof with awnings and ventilation. Our garden-sized windows are available from spring through autumn. The sliding roof and sliding skylight are ideal for maintaining healthy air. Air circulation maintains calmness and tranquillity – and by incorporating ducts on the roof and sliding skylights heat can escape. Awnings are available in combination with our garden glass rooms for the desired mood.
We value you as a customer and therefore give excellent customer service and a free brochure to enable a fast operation and great service.